How to protect your airbnb in Kennewick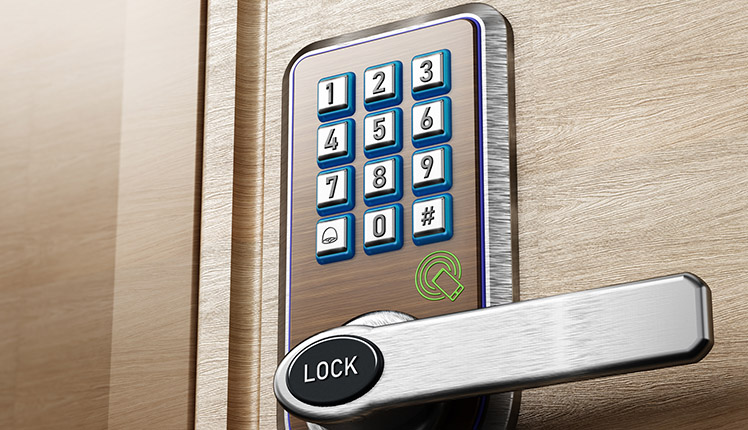 Whether you lease out the family lake house or have numerous Airbnbs, it's often difficult to protect your rental properties in Kennewick. With metal keys passing through multiple occupants, it's simple to worry about vanishing valuables or past renters arriving unexpectantly. Not to mention, what would you do if there's an emergency like a fire at your rental unit while you're offsite?
From smart door locks to completely automated home security packages, here are some top recommendations on how to protect your Airbnb in Kennewick.
Ditch keys with your Kennewick smart locks
When a renter moves on, they could leave the keys behind for the next guest. Although, if a tenant snatched or copied a key, they could re-enter at a later time. Certainly, you could change the locks after a key goes missing, but that takes time and money.
Thankfully, you can put in smart locks that work in conjunction with your security system to put these concerns at ease. Then, you can issue each renter their own unique entry code. When tenants check out, don't worry about a key dropoff. Instead, simply set the door code to deactivate after they're gone. If former inhabitants reappear and make an attempt to enter with their old code on the number pad, you will be warned with an update of the failed attempt on your mobile device.
A smart security system makes empty properties appear to be inhabited
It's nice to think that your Kennewick rental property will be occupied, but that's not always possible. Nevertheless, you need to make it appear that someone is home so your rental isn't a potential target for prowlers. Implementing a security system that includes home automation affords you the opportunity to benefit from smart light bulbs, motion detection devices, and security cameras that make your lodging look occupied.
Begin by setting your smart lights to turn on at specified times of the evening. Then, use your security smartphone app to notify you if your video cameras notice an unwanted guest lurking in the dark or approaching your primary entry. You have the opportunity to employ the talk functionality to make them aware that you can see them or set your lights to instantly turn on when a surveillance device or motion detection equipment uncovers questionable movement.
Protect your Kennewick rental property with 24-hour monitoring
Your tenants can sleep easy if they are safeguarded from intruders, particularly when Kennewick is somewhat unfamiliar. In the event a prowler attempts to invade your property, your security system will not only sound a siren but will also ping your 24-hour monitoring team. Now, no matter where you are, help will be forthcoming. Your monitoring specialists can even act as your authorized go-between and patch you in whenever you're available.
In addition to intrusions, your monitoring team can be linked to fire alarms, flood detectors, and carbon monoxide detectors. It would be understandably distressing for your renter if a pipe bursts or a fire breaks out. You not only will get a smartphone update that a potentially dangerous event has taken place, but the monitoring agent can also coordinate help from emergency personnel while you're en route.
Request an innovative home protection plan in Kennewick
The most sensible strategy to protect your Kennewick rental property is to install a home security system. Fortunately, Vivint has popular choices like smart lights, smart entry locks, and around-the-clock monitoring. Touch base with us today and our security specialists will design a package that's ideal for your property. Dial (509) 794-3375 or fill out the form today!